Luxury Apartment Da Nang,
Located right at across from a stunning white sand beach and attach to many tasty local restaurants, seafood, entertainment outdoor, etc. Within 10 minutes away from Danang International Airport.
Sheraton Four Points Da Nang is one of the most beautiful landmarks in Da Nang own its special design, the whole apartment catch the whole fantastic view and  the air we breathe affirmed it's 5*star class with fancy flat equipped with up to date modern utility system and professional international service management team Savills Vietnam
Luxury Apartment Building also hosting Sheraton Four Points hotel with the high-end room, having their own lobby and full facilities including rooftop coolest swimming pool and lounge, gym fitness, and sauna service to Four Points By Sheraton restaurants and room, housekeeping professional service
---
Luxury Apartment Da Nang – altara suites Sheraton four points
Fully meet 3 criteria of "Investment – Settlement – Resort", there is no project better than Da Nang Luxury Apartment.
"Investment": Da Nang city is ranked as the best tourism city of Vietnam, has welcomed millions of domestic and foreign tourists every year. This city also has a rapidly growing speed, so owning a resort property with a long-term rental program will be a lucrative investment opportunity not to be missed.

"Settlement": Project has space of beautiful and creative designed space, perfect utilities with outstanding living value.

"Resort": Luxury Apartment is located on 120 Vo Nguyen Giap, the most beautiful location of Da Nang beach. The green endless stretching beach with white sand is a special feature of this project. Therefore, it's not untrue to say that it is the perfect place for relaxing in Da Nang city.
Premium Luxury Apartment is designed by Salvador Perez Arroyo, one of 10 most famous architects in the world. Thank him, the apartment's interior architecture is the combination both of natural harmony and exquisite innovation as well as required to fulfill a cozy luxurious home needed.
Da Nang Luxury Apartment has most of the best view in this city such as  Pham Van Dong beach, the city center, Son Tra peninsula and Marble Mountain "Ngu Hanh Son". With the design of apartments from 1 to 2 bedrooms with an area from 58m2 to 102m2, customers can freely choose an apartment model to suit their needs. –  One-bedroom apartment: 58m2 – 65m2
–  Two-bedrooms apartment: 73m2 – 75m2 – 79m2 – 102m2.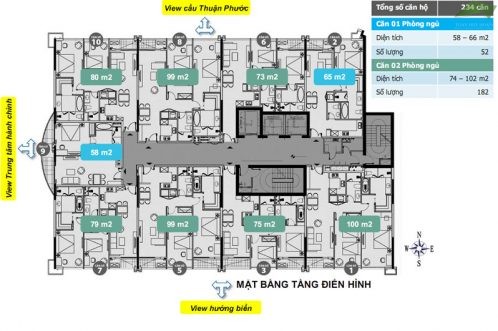 The living space is designed reasonably elegant fully world-class furnished includes living room associate with kitchen area and dining table, outdoor space for balcony. Every cozy room at the accommodation comes with a minibar, comfortable feeling like at home, a balcony and a working desk Unwind and embrace the ambiance of Da Nang in the in-house, It is exactly the room: big window and balcony, comfy mattress, you can either turn on cozy light or natural light during daylight, catch the greatest view of the beach, city. high standard bedroom with master enclosed bathroom. Infinity swimming pool with many lying-chair which is an ideal place for chilling out Modern gym fitness system with big space, nice equipment, from the whole glass wall, you won't be regret spending time at the gym while working out: The stunning view from the gym fitness Five-Star Standard Utility System
Infinity swimming pool

Modern gym center

Spa beauty care

High-class restaurant

Security system monitoring 24/7

Luxury welcome hall
In addition, permanent ownership is a plus for this project. This is the only resort project adjacent to the sea so far by this form in Da Nang.
If you are interested in this project, do not hesitate to pick the phone up and contact our company to receive the most dedicated recommendation for long term renting and selling.
---
relevant projects The project of Azura Luxury Apartment Da Nang