Alphanam Luxury Apartment
Details of Alphanam Luxury Apartment
Alphanam Luxury is a complex of hotels and flats situated within the strategic position of Da Nang.  Nang – that is understandable because of the most inhabitable city in the world.
Alphanam Luxury is a prominent project in Son Tra District Da Nang
The project was designed and engineered on a scale of nearly 80,000m2 right next to My Khe beach, one of the six most stunning beaches on the planet.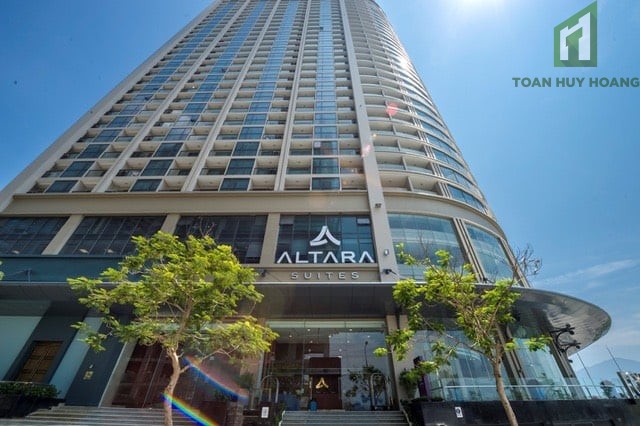 – Project name: Alphanam Luxury apartment
– Investor: Alphanam group
– Distributor: Alphanam real estate Joint Stock Company
– style unit: Architect. salvador Perez arroyo – SDESIGN
– Construction unit: Delta
– Completion date: fourth quarter of 2017
– Total area: 5491m2
– Building density: 40%
– Scale: 232 apartments from 1-2 bedrooms with an area of ​​​​60-100m2
The Alphanam Luxury was designed by an internationally renowned investor
The building was architectured by proficient Spanish designer El Salvador Perez Arroyo took the thought of ​​​​the morning sun showing on the ocean surface to style a building that brings beauty in and integrates several utilities, mixing in with nature, during this most livable place within the world.
This urban area, Son Tra District is among the most sought living neighbor at this point in Da Nang not only for the beautiful serenity, the peace that heals the mind.
Luxury Apartment is managed by Savills Vietnam
The world's leading prestigious property management company and in the Vietnamese market, whereas the complex together with Four Points By Sheraton hotel area, is also by Savills Vietnam.
Starwood is the world's leading hotel group. The leading investor but this project is really bringing countless advantages for whoever living in it.
It is the first choice of luxury accommodation for guests in the beach District
This urban area is the most sought living space at this point in Phuoc My Ward, Da Nang not only for the reputation of the leading investor but this project bringing countless benefits for whoever living in it.
The Alphanam luxury complex presents professionally with diverse services from internal ones such as cleaning, management, security,… to surrounding essential amenities such as beach areas, shopping malls, convenient stores, etc, that easily reach within a matter of minutes, there is also a beautiful white sandy beach where you can go for a walk and enjoy the lively city view of Da Nang.
The detailed price range long term rental of Alphanam Luxury Apartment For Rent 
For 1 bedroom apartment for rent with an area ranging from 59sqm to 65sqm: the rental price would is from 12 million to 15 million per month.
For 2 bedroom apartment for rent with an area ranging from 74sqm to 100sqm, the rental price would is from 15 million to 19 million per month.
The price is can be changed depending on seasons and owners, however, We strongly believe that your criteria for your true home will always be met with Alphanam Luxury.
Additionally, working with Toan Huy Hoang company, to receive extra benefits and best price exclusively which can enable your experience worth and most enjoyable in every way.
For more information relating to Alphanam Luxury Apartment, please contact Toan Huy Hoang Real Estate Company through Hotline: 0847-995-959.